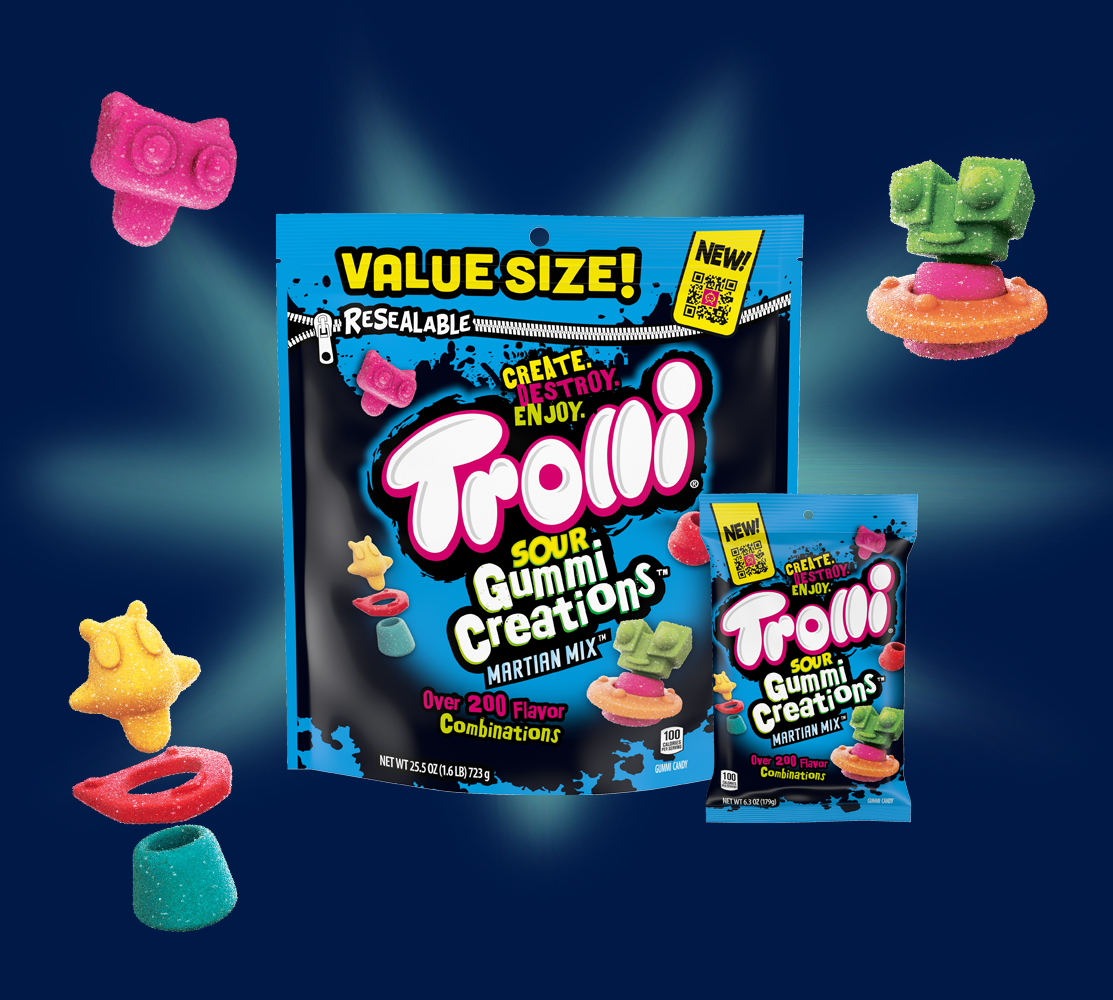 GET READY FOR THE SOUR GUMMI INVASION!
Gummi Creations have scattered across the globe! Connect gummi body parts to create 216 different aliens, with totally out-there tastes this world has never seen.

Gummi heads, rings and bases come in six unique flavors— Strawberry, Lemonade, Watermelon, Mango, Blue Raspberry, Pineapple. Mix, match and most importantly—EAT as many aliens as you can!

Grab a pack and scan it to find the profile of your favorite alien. Find Gummi Creations at a store near you.
Nutrition Facts+
Serving Size: 4 pieces
Calories: 100 / Fat: / Sugars: 14g / Protein: 1g / Sodium: 35mg / Total Carbohydrates: 23g
Ingredients +
Corn Syrup, Sugar, Gelatin, Modified Food Starch (Corn), Fumaric Acid, Lactic Acid, Citric Acid, Sodium Citrate, Natural and Artificial Flavor, Calcium Lactate, Sodium Lactate, Titanium Dioxide (Color), Red 40, Yellow 5, Blue 1, Yellow 6.
Faqs
Prizes & Sweepstakes
The sweepstakes promotion ended August 31, 2021 at 11:59 pm Central.
Please check your spam or junk folder. In the webapp experience, ensure your email address is entered correctly.
General Gummi Creations Product Questions
Trolli Gummi Creations – Martian Mix: a mix of connectable sour gummi pieces in a variety of fun alien-themed shapes. You can mix and match different flavor and shape combinations to create your own unique, custom-flavored alien creation
Strawberry, Lemonade, Watermelon, Mango, Blue Raspberry, Pineapple
There are 4 different shaped heads, two rings, and two bases. Each bag will be a random mix of all the shapes.
The number of aliens you can create per bag varies, but there is 200+ potential flavor combinations.
To create a Gummi Creations alien, you take the ring and place it around the base and put the head into the base. There should be three pieces in total to create a full alien.
The QR code on the front of the package will lead to a page where you can read the profiles of the Gummi Creation Aliens. There are 216 aliens! Keep scanning your pack to see them all and share your favorites with your friends.
The Gummi Creations promotion ended on August 31, 2021 but the Gummi Creations product is not limited to that time period.
No, this product is only available in the US.
Related Products